Dictionary Nemonik Thinking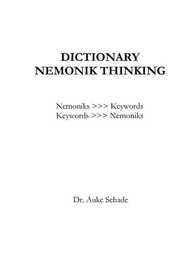 We need clear definitions to communicate. However, definitions associated with the mind and reality are inherently hypothetical, fuzzy, and intertwined. Therefore, the first part of this dictionary translates nemonik concepts into common keywords (e.g.
advance
into attack, bypass, etc.). In contrast, the second part translates common keywords into nemonik concepts (e.g. attack, bypass, etc. into
advance
). Nemonik thinking will improve your life. It accelerates your thinking; improves your memory; mobilizes your subconscious genius; strengthens your weaknesses; and reveals opportunities and threats. It helps you to pursue your goals in the right state of mind; at the right place, at the right time, with the right resources; and the right information. Nemonik thinking will assist you to think on your feet and become panic resistant during emergencies. Nemonik thinking is simple to learn, but it so sophisticated that it will make you a superior problem solver. Nemonik thinkers evaluate a checklist of seventeen nemoniks for each situation. Nemoniks are memorized keywords describing all aspects of your mind, reality, and their interaction
(Schade, Think Smarter with Nemonik Thinking, 2016)
.
---
Order Paperback (Amazon)
5.5" x 8.5" (13.97 x 21.59 cm)
Black & White on White paper
254 pages

---