---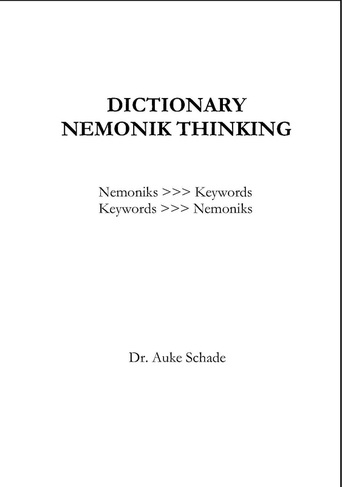 Nemonik thinking mobilizes your hidden genius, accelerates your thinking, improves your memory, reveals opportunities and threats, creates questions and ideas, and reduces your stress levels. Nemonik thinking divides the mind into 17 nemonik regions. Those regions defragment information, which facilitates the storage, maintenance, recall, and processing of associated information from memory. However, the boundaries of those nemonik regions are fuzzy. Therefore, the aim of this dictionary is to differentiate them by providing keywords for each nemonik concept. The first part of this dictionary translates nemonik concepts into common keywords (e.g.
advance
into attack, bypass, etc.). In contrast, the second part translates common keywords into nemonik concepts (e.g. attack, bypass, etc. into
advance
). This dictionary shows that the complexity of conventional thinking comprises thousands of keywords that can be simplified to 17 nemoniks. This reduction will increase the speed of your thinking. To become skilled in nemonik thinking, it is recommended to study--
Think Smarter with Nemonik Thinking (A. Schade, 2016).
---
---
---
​See also the books:

---
---