Lao Tzu's Tao Te Ching (English)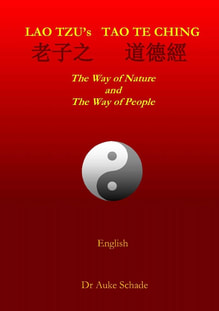 Lao Tzu's
Tao Te Ching
(Lao Zi's
Dao De Jing)
is a beautiful example of ancient Chinese literature.
Tao Te Ching
means literally--
A Classic about the Way of Nature and the Way of People
. It aims to maximize your success, which is to obtain what you seek and escape what you suffer. Success is maximized by aligning the
Way of People
with the
Way of Nature
. After two-and-halve thousand years, Lao Tzu's wisdom is still ahead of time and outshines intellectual giants such as Confucius, Sun Zi, Socrates, Plato, and Aristotle. Lao Tzu's deep understanding of nature and people is your guiding light to a better future, because his way of dynamic thinking reaches peacefully across the fault-lines created by race, religion, and ideology. Therefore,
Tao Te Ching
is more relevant than ever. This book comprises an English version of
Tao Te Ching
, which is extracted from
(Schade, Lao Zi's Dao De Jing Demystified, 2017)
. Furthermore, Lao Tzu's amazing secrets are revealed in
(Schade, Stunning Revelations about Lao Zi's Dao De Jing, 2017)
.
---
Order Paperback (Amazon)
5.5" x 8.5" (13.97 x 21.59 cm)
Black & White on White paper
86 pages

Order Mobi version (Kindle)